Through the simple act of writing letters, Annie Wheeler became the surrogate mother for thousands of Queensland soldiers and the main source of news for their bereaved families back home.
During the First World War, Mrs. Wheeler became Central Queensland's "unofficial war correspondent" and "one-woman communications depot".
She soon became affectionately known as the Mother of Anzacs.
Robyn Hamilton of the State Library of Queensland said telling Ms Wheeler's story was part of uncovering the often hidden work of women during the war.
"She was one of the great Queenslanders of the First World War," said Ms Hamilton.
"I think the fact that the soldiers knew that she was a conduit through which they could reassure their families was really important.
From cattle country to London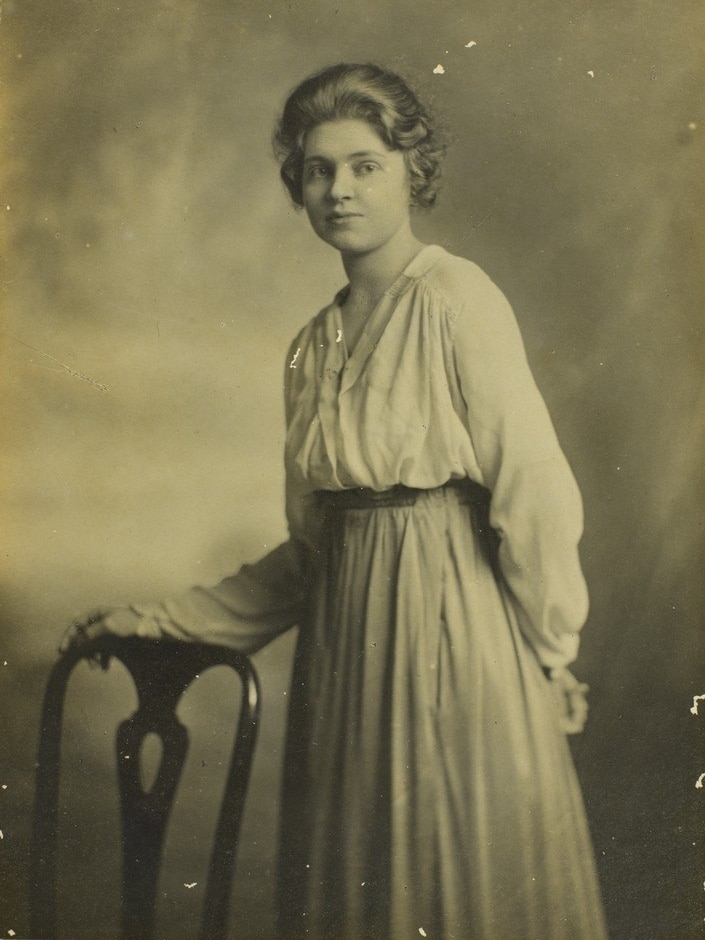 Educated in Springsure and Rockhampton, Annie Laurie married rancher Henry Wheeler in 1896 and settled with him at a station near Blackwater, where they welcomed their daughter Portia.
Mrs. Wheeler was 36 years old when her husband was killed in a horse-riding accident in 1903.
His will stipulated that Portia be taken to England to finish her education, which is how the mother and daughter ended up in the south of England in 1914.
"When the war broke out, they found themselves a long way from home, but she felt very compelled to try to help in some way," said Ms Hamilton.
Initially, Ms Wheeler would take the train from her Eastbourne accommodation to London to visit the Australian Imperial Force (AIF) headquarters and the Australian Red Cross Missing and Wounded Office.
As word spread in central Queensland and the letters continued to arrive, so did the hour-and-a-half train rides to London.
Finally, Mrs. Wheeler and Portia moved to the city and dedicated themselves to this new mission.
soldiers catalog
Days were spent visiting wounded soldiers, writing letters, and coordinating the "wonderfully detailed system of cards" that numbered approximately 2,300 by the end of the war.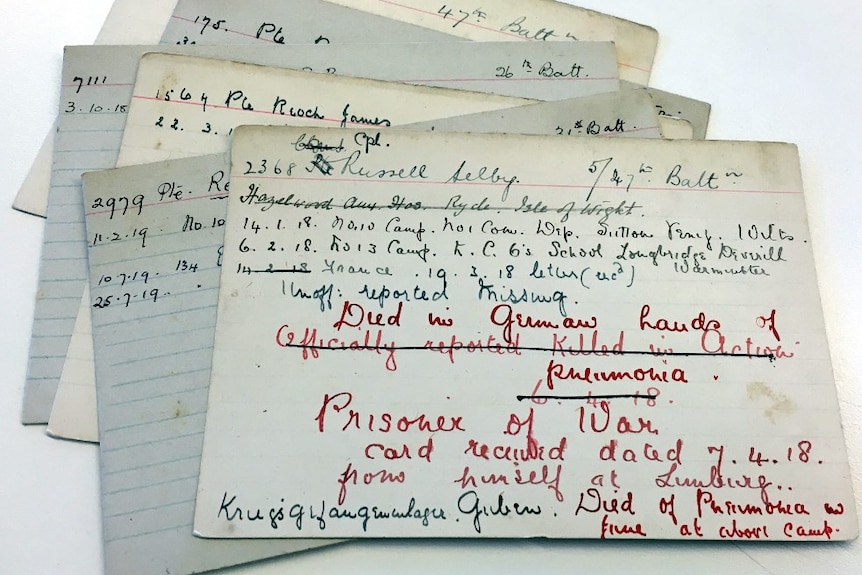 "She would make a card for each soldier…and on the cards she would record every instance of communication, whether it was a letter back and forth from families or youth, or every instance of a patient that she and Portia would visit." said Mrs. Hamilton.
The State Library has these treasured boxes; the tokens and dozens of cards have been digitized.
In addition to letters, Mrs. Wheeler also organized package deliveries, raised funds for soldiers in need, and helped with other administrative matters.
A hero's welcome
By 1917, the workload was taking its toll on Mrs. Wheeler's health, despite the help of a small team of volunteers.
She was so loved in her home that the Rockhampton community funded a nurse to care for her.
Families in central Queensland eagerly awaited Mrs. Wheeler's fortnightly summary letters published in local newspapers.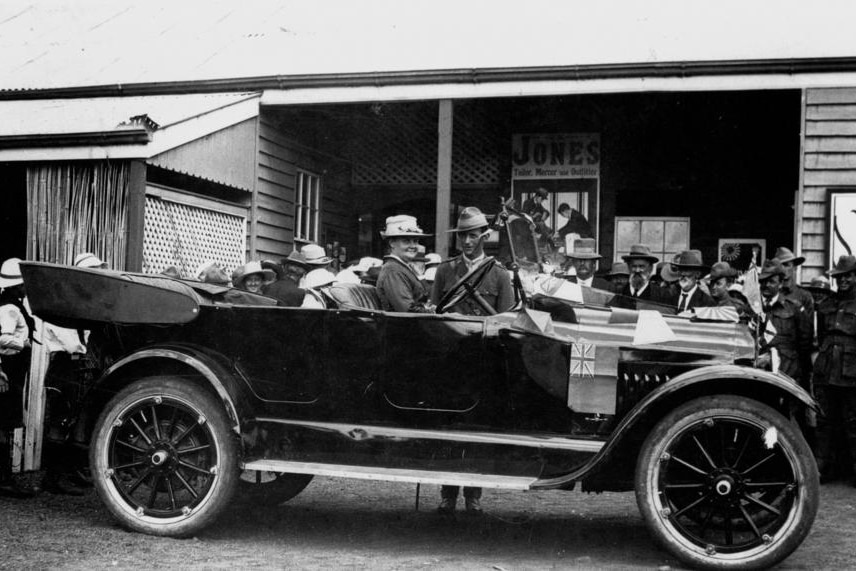 When mother and daughter returned to Australia in November 1919, they were greeted with a hero's welcome.
"About 5,000 people came to meet his train and the soldiers took his car through the streets. [of Rockhampton] to a public reception," said Ms. Hamilton.
Portia Wheeler would have a daughter, the granddaughter of Mrs. Wheeler, who served in World War II as a member of the Citizens Military.
Honoring the hidden stories
Last month Rockhampton politicians called for permanent recognition of Ms Wheeler's work.
Rockhampton Region Councilor Drew Wickerson wants to see a bust erected along the city's riverside promenade alongside that of Rockhampton-born tennis legend Rod Laver.
He is planning to bring a proposal to the council in the coming months.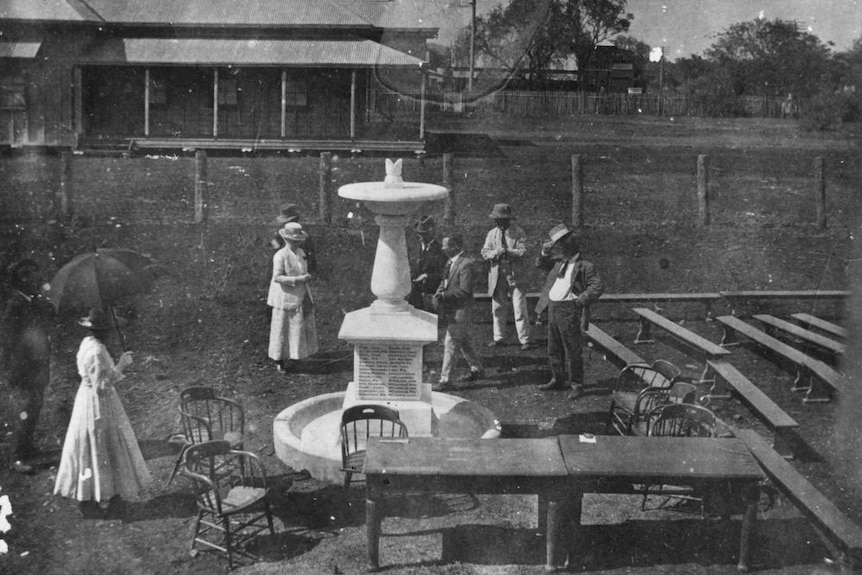 Wickerson said that while he believed Ms Wheeler should be the next person honored, it could be the start of a "walk of fame" honoring prominent central Queenslanders.
"We have so many amazing heroes, ambassadors and famous people who have made achievements in their own Rockhampton disciplines and we really need to honor these people," he said.
Ms Hamilton said women's war work was often hidden and she welcomed any move to restore balance.
"For every young man fighting abroad, there are female relatives in the background," he said.