Rather museum or concert? During the last days of Paris fashion week, which ends on March 8, after nine days of shows, several brands took over places of culture or paraded pop stars on their catwalks, one without impeding the other.
Despite her musical pedigree, Stella McCartney devoted herself instead to the fine arts, inviting her guests to the Center Pompidou, in the long transparent corridor of 6me floor, offering an unobstructed view of Paris. "I wanted to parade here because Beaubourg has one of the best collections of works by Frank Stella"explains the designer. In fact, his collection has its roots in the work of the American painter, known for his geometric abstractions in the 1950s, and later for his three-dimensional explosions of color in the 1970s. "His minimalism as well as his maximalism speak to me and resonate with the brand's universe, where garments often show a masculine sobriety, but can also be completely explosive. »
read also
At Paris Fashion Week, designers burst the screen
Frank Stella's geometric lines deftly blend with highly graphic black and white coats or suits, or patchwork wool sweaters with zigzag stripes. Stretch viscose dresses brim with colors and abstract prints, like a palette where gouaches have been allowed to blend. The most beautiful dresses are monochrome, in shimmering silk georgette, with open sleeves that billow like balloons when the wind blows through them. The artistic dimension is doubled as always in Stella McCartney by an ecological concern: this season, he has developed a new vegetable "leather" made from grape skins. "All the wine you drank during lockdown turned into bags! »she laughs.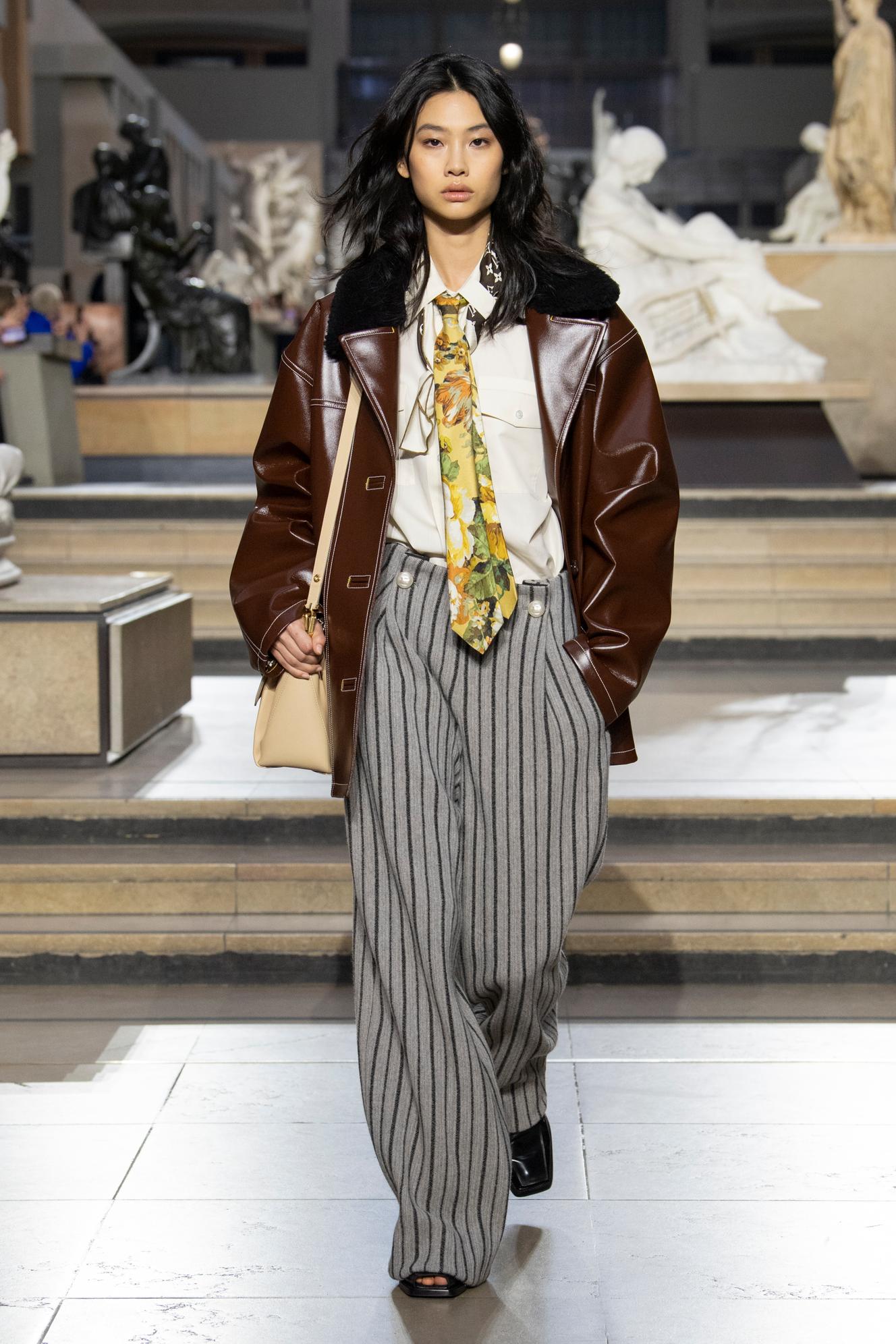 On the same day, Vuitton invited another Parisian museum, in Orsay, with which the house began a new collaboration, in addition to the long-standing one with the Louvre. "I love the central nave for its light, its colors, that strange aura it emanates, like a temple"explains Nicolas Ghesquière. Indeed, it is hard to imagine a more beautiful setting than Courbet's marble statues and paintings to present a collection focused on adolescence, "point, sartorially speaking, without conformism, made of mixtures, of dissonances". In the hastily-knotted flowered ties, the lanky-looking large leather jackets, the Converse-type sneakers or the striped rugby shirts, we find stylistic elements of the student (more seasoned than mathematical).
Adolescence is also represented through portraits of unknown youngsters captured by fashion photographer David Sims at the beginning of his career, printed on T-shirts or embroidered on flowery polo shirts. "It could be t-shirts that teenagers buy after concerts. Or like a teenager's room with its flowery wallpaper covered in posters of his idols.", imagine the creator. If the references are clear, the wardrobe remains faithful to the Ghesquière aesthetic, all in hybridizations (long live the scarf skirt) and skilful constructions (a mille-feuille of colored silk muslin that gives the impression that the garment sticks to the skin) . To embody it, the art director turned to the pop culture star of the moment: the heroine of the series. squid game Jung Ho-yeon opened the parade.
Zebra coat and marshmallow dress
Proof that you don't have to be a giant to parade a star: several young creators have opted for the surprise appearance of a celebrity in their show. Female singers are particularly popular. The Victoria/Tomas duo thus opened the festivities by parading Louane in a large zebra coat; designer Nix Lecourt Mansion dressed pregnant Amel Bent in a marshmallow gown; beginner Alphonse Maitrepierre asked Arielle Dombasle, in a blood-red case, to perform her song on a sophisticated lip-synth I wish you love. Fashion becomes performance, clothing is nothing more than an element of a global and joyful culture.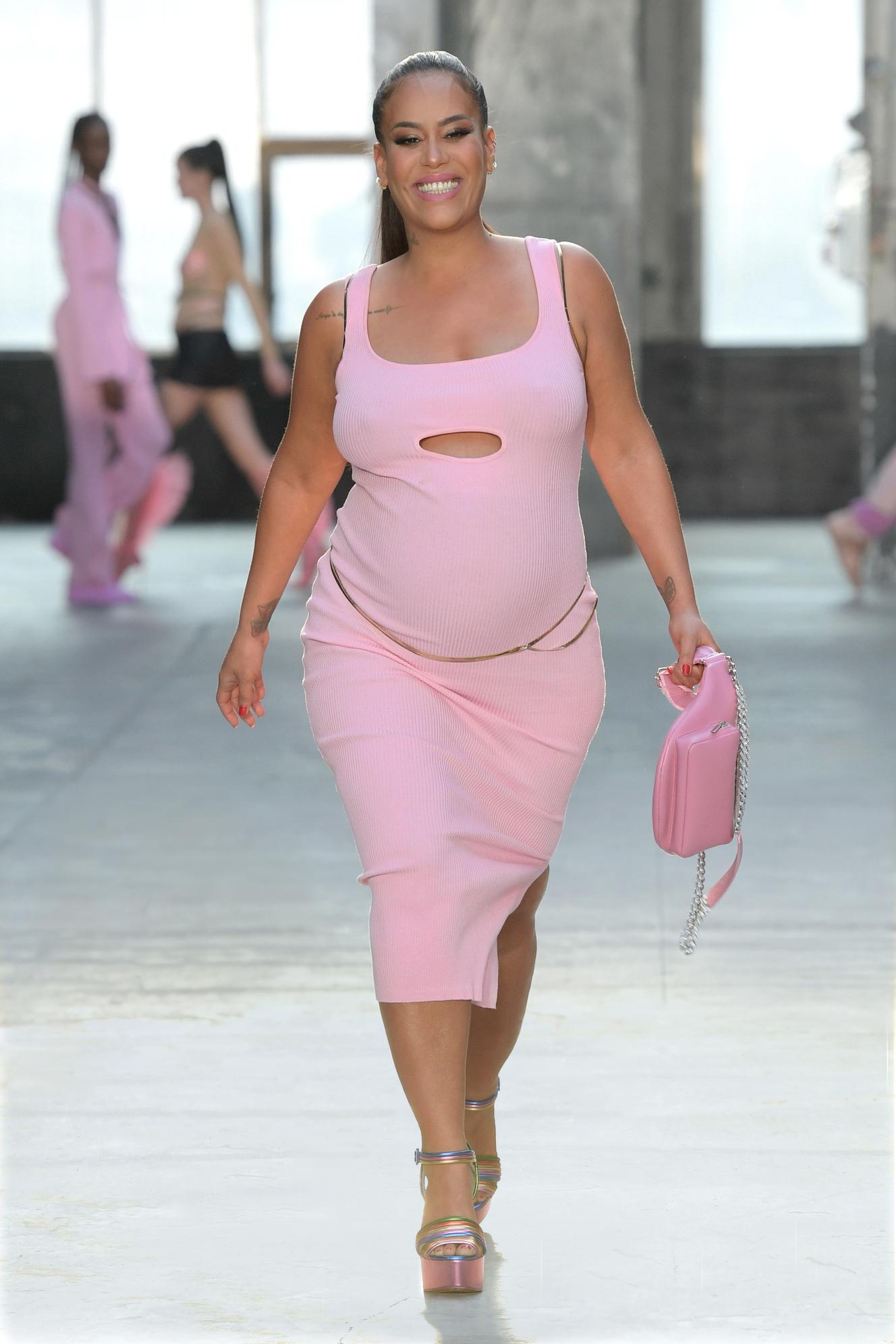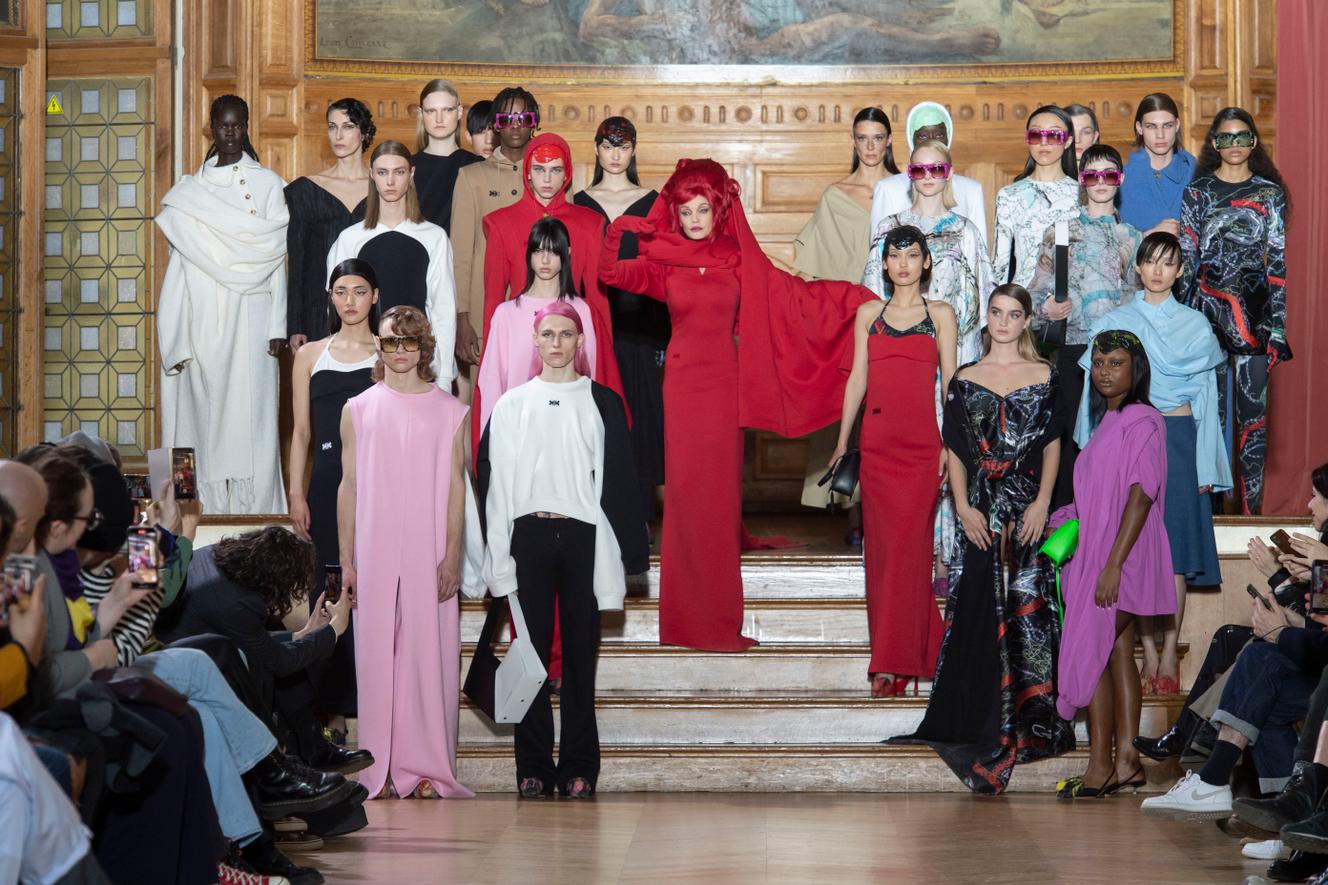 read also
Article reserved for our subscribers

glamor's revenge
The atmosphere is also decked out in glitter and pop flavors at Germanier and Vivienne Westwood. The first, a 30-year-old Swiss who imposes a colorful and excessive style all in sequins, denim and recycled pearls, a sort of Thierry Mugler nurtured by Hello Kitty and inserted into Greenpeace, opens his first parade, in the grand siècle halls of the Baccarat crystal factory. Divas with feathered fabrics, creatures with bright clothes, mutants with masked faces… "I wanted to move away from the princess aesthetic that I was able to explore before, for darker notes, highlights Kevin Germanier. A mad scientist side who creates his aliens – that's who I am in the end! »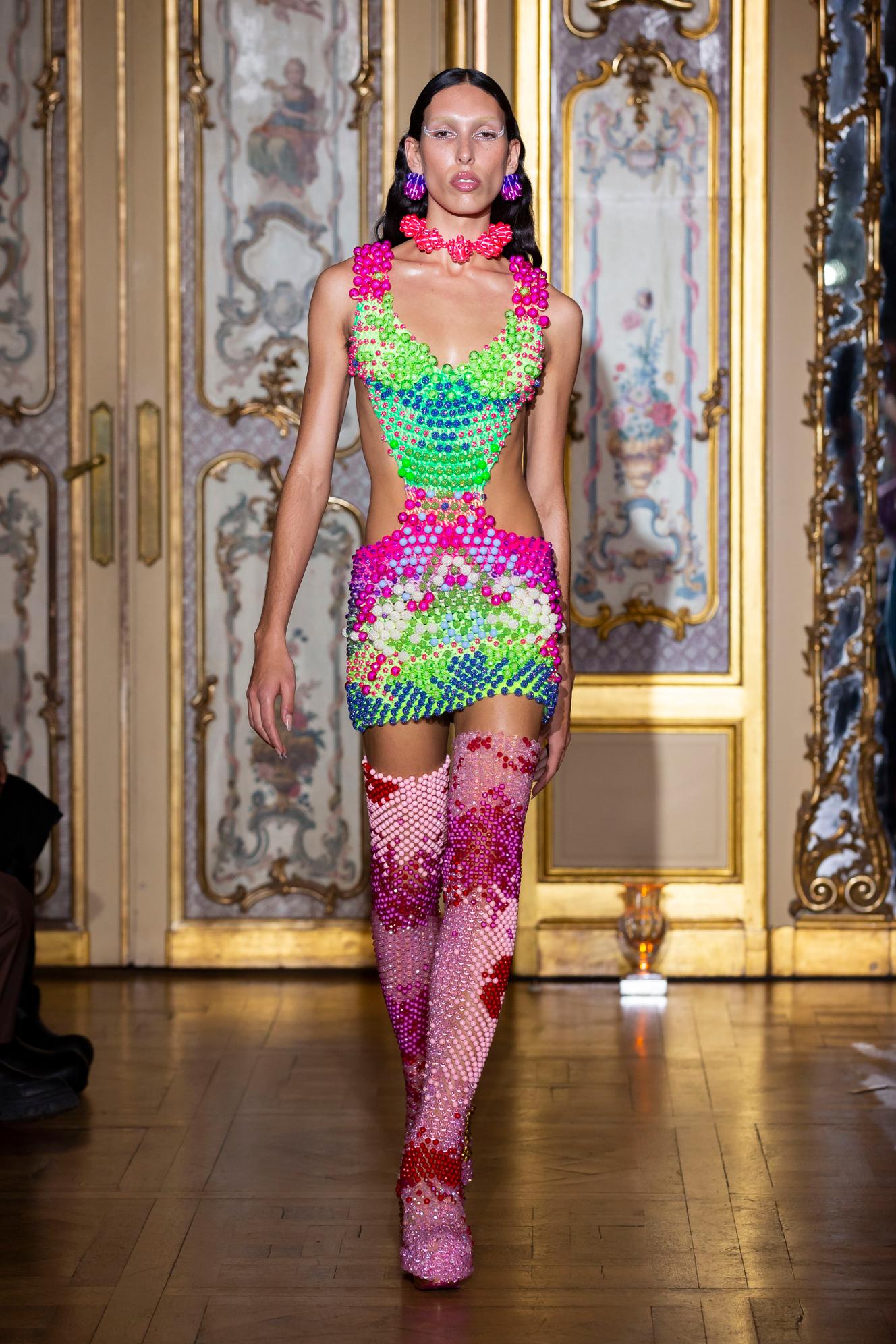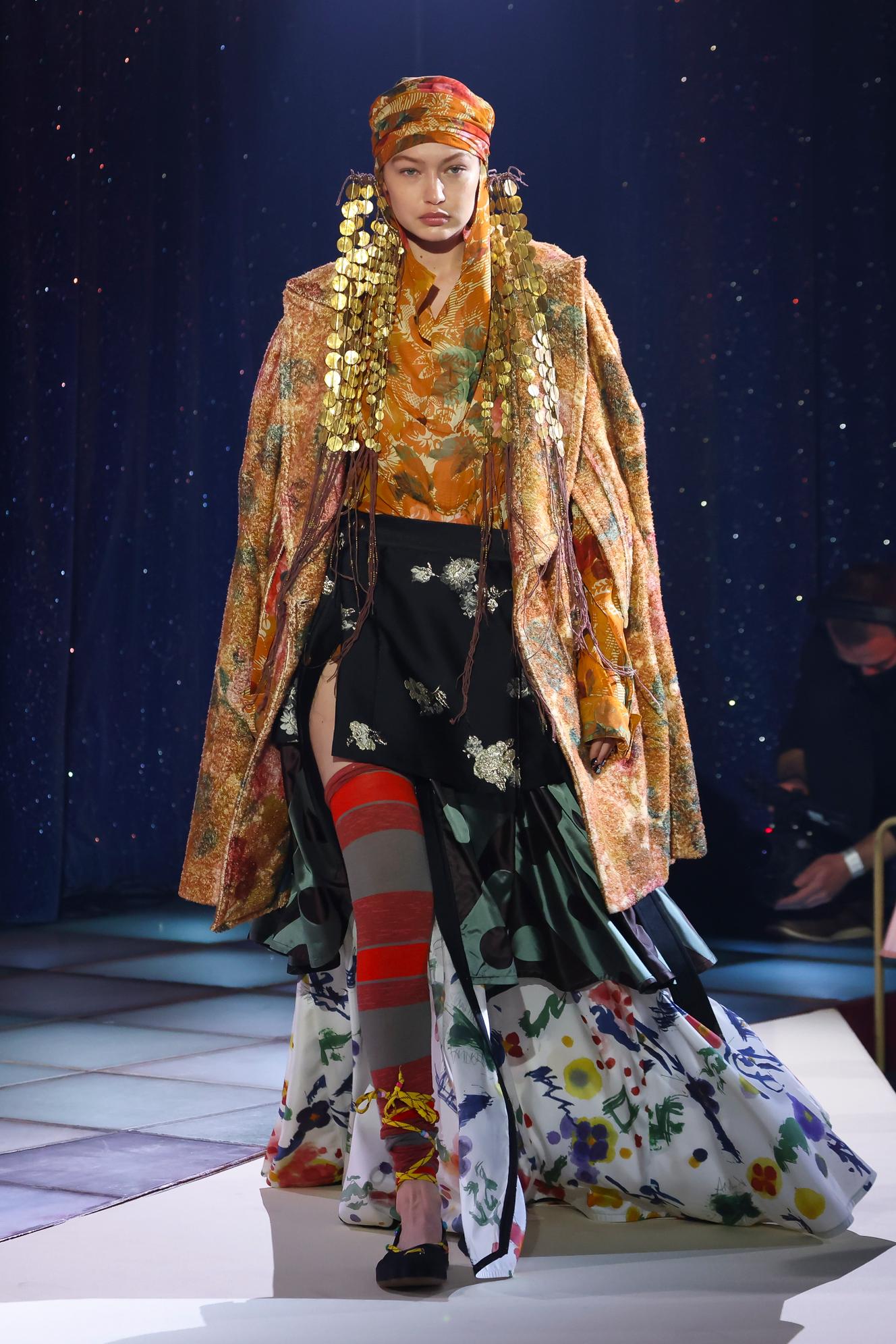 At Vivienne Westwood, the artistic director, Andreas Kronthaler, also puts on the big show. On the podium of La Nouvelle Eve, a Pigalle cabaret, are the patched-up outfits of hobos, satin curtains accented with boas à la Zizi Jeanmaire, ballerinas with Pierrot pom-poms and harlequin prints, fishnet stockings and rococo jackets. Festive references shared by an exalted public.
Caps and baggy pants
Givenchy also invites its guests to a performance hall, in the Paris La Défense Arena, the largest concert hall in Europe, with a capacity of 40,000 people. Obviously, the show is on a smaller scale, with a stage within a stage, raised a few meters above a transparent floor, through which we can see the models coming out of the wings. Creator Matthew M. Williams chose this location because "It feels like home", he whose fashion career is closely tied to music – before Givenchy, he collaborated with Kanye West and Lady Gaga. A deserter from a universe other than luxury, it took him a few seasons to find his bearings in this house whose DNA is sometimes vague, divided between the classic elegance of its founder, Hubert de Givenchy, and the streetwear influence introduced by the former artistic director. Ricardo Tisci.
Matthew M. Williams deftly navigates between the two in this mixed fashion show, offering a chic wardrobe for women, all in reference to Audrey Hepburn, and for men, a cooler range, based on hoodies, caps and wide leg pants. . "Since my arrival in 2020, I have developed a language and have improved in techniques, Williams says. I perfected used denim, which I treat with the same care as duchess satin. Or the peplum dresses, whose ruffles are becoming lighter and more delicate. » The American designer has yet to really put his stamp on Givenchy, but now he's effectively playing up his heritage.
Isabel Marant has settled, as usual, in the gardens of the Palais-Royal, a stone's throw from the Ministry of Culture. It was to the pop rock riffs of the New York group Blonde Redhead, installed on a stage at the end of the podium, that the Parisian designer sent her proposal for the winter 2022-2023. A fresh wardrobe, structured around pieces that are readable and easy to live with. We find designer tricks, patterned pants, big men's jackets associated with tall boots, leather or denim jumpsuits, or even short dresses cut for the dance floor. The look is cheerful and relaxed, as one imagines the atmosphere of an outdoor concert in summer. A bubble of lightness, in the middle of a strange season, hit by the geopolitical context.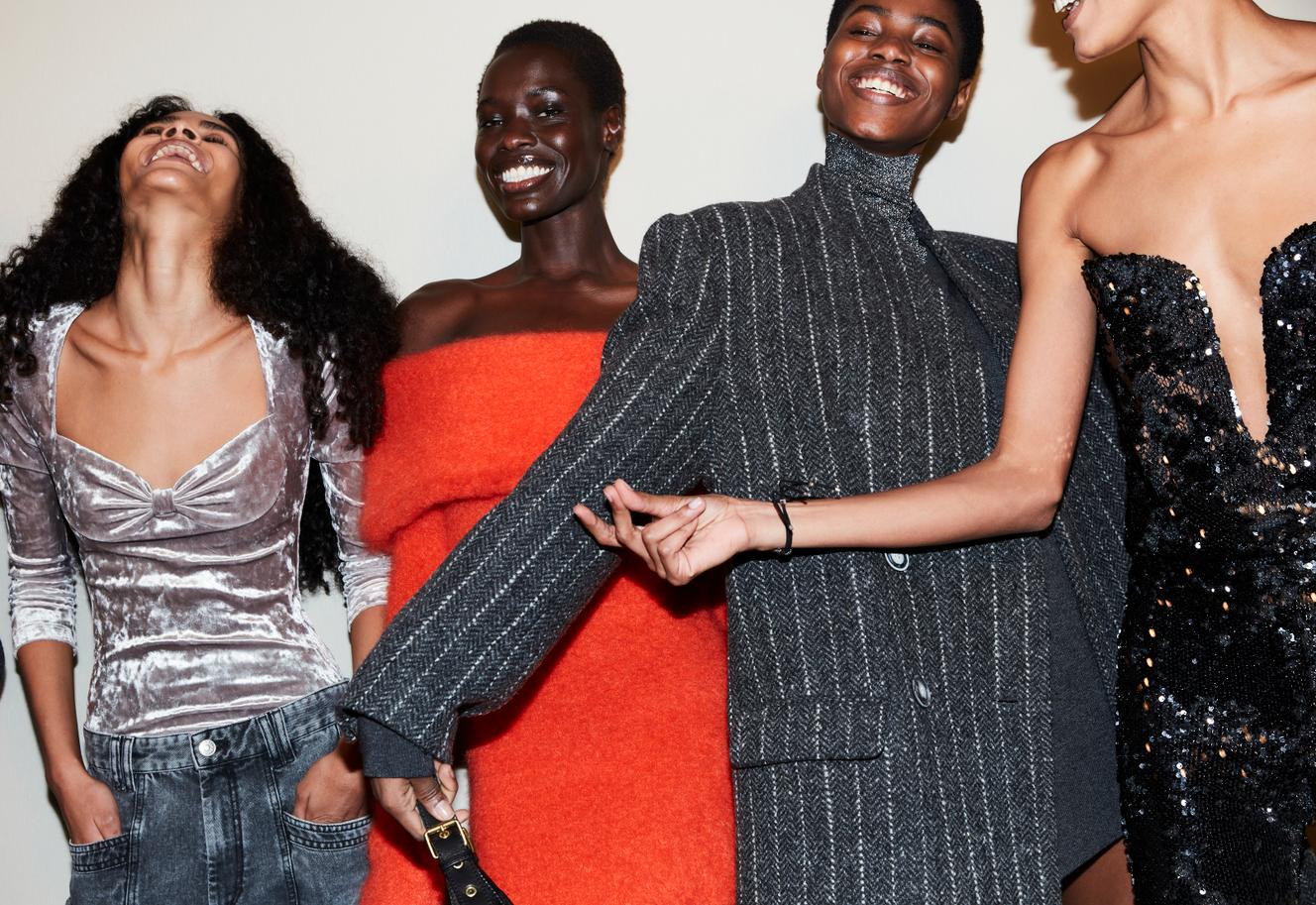 read also
Inside the Chanel studio before the show